?Who should become a Spikey-Tec™ Licensed
Any individual who is interested in adding Spikey-Tec™ program to their existing businesses, i.e. martial arts studio, health club,
gym, or law enforcement training, etc
In addition, individuals who are interested in training and marketing Spikey -Tec™ may also become a Spikey -Tec™ Licensee
Get access to exclusive training manuals detailing SPIKEY ™ techniques and teaching methods.
• Rights to use the Spikey -Tec™ brand logo and the Spikey-Tec™ website.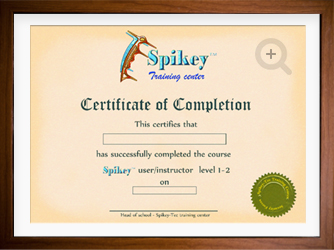 • Become an authorized Spikey -Tec™ re-seller and buy products at wholesale rates.
• Offer the Spikey -Tec™ program immediately upon successful completion of each training phase.
Note: Licensees are required to be certified instructors in the country in which they teach (of any self defense or martial art). 
The makers of SPIKEY ™ also offer training in: Tactical Defense, Personal Bodyguard Certification, Light Weapons, Anti-terror, Guerilla fighting, Intervention and Entry for Law enforcement, army and security units.
Our team of self-defense experts have trained the Israeli correction officers, the Shin-Bet (Israeli FBI),
law enforcement officers around the world including the NYPD, and countless anti-terror, and martial artists.