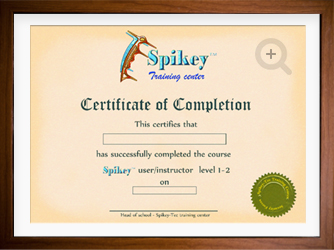 Learn more about becoming a certified Spikey Instructor or a Spikey Business Partner
At Spikey-Tec, we have a licensing program geared towards improving your business. Here is what we can offer you:
Martial Arts Teachers / Law Enforcement and Security professionals:

 
Become Spikey-certified by attending a designated Spikey course in Israel, or invite sifu Sapir Tal to conduct such a course at your location. Courses are given to individuals or groups, by demand. As part of the worldwide family of Spikey Instructors, you would then be able to sell, promote and offer courses for Spikey products and system. A minimum level of 'black belt' expertise or equivalent with a serious training background is a prerequisite for partaking in such a certification course. Certification is specific to the country where one conducts most of his teaching activities.
Additional specialized training include SPIKEY ™ courses dealing with

: 
Tactical Defense, Personal Bodyguard Certification, Small Weaponry and Firearms, Anti-terror, Guerilla fighting, Intervention and Entry for Law enforcement, army and security units. Reminding the reader that sifu Sapir Tal has actively taught members of the IDF, covert Israeli government agencies (such as Shin Beit), the NYPD, Japanese riot police, and more.
Martial Arts School or Fitness Gym owners / Outlet store owners and managers:  
Become a distributer or reseller of Spikey products by signing a trade agreement with Spikey-Tec. Get the profits you want with our successful business model. We will work with you to ensure you can make those sales happen.
All programs entitle you to:
- Get access to exclusive training manuals detailing SPIKEY ™ techniques and teaching methods. 
-  Own rights to use the Spikey -Tec™ brand logo and the Spikey-Tec™ website.
- Receive special prices for all Spikey bulk orders, much better than what is usually offered.
- Receive constant support and backing from Spikey-Tec in your business endeavors.
 Contract us today for more information:  [email protected]